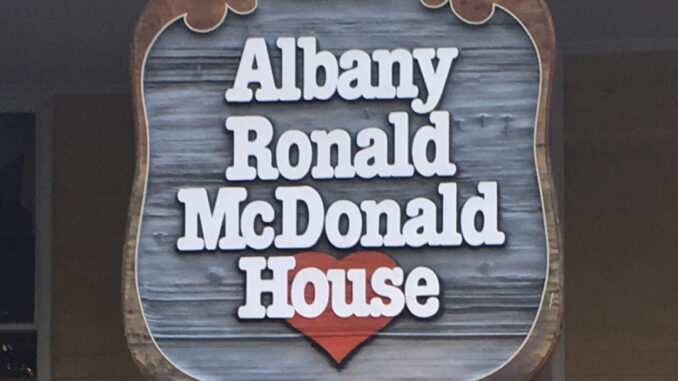 When he was eight years old, John Brown's brother was diagnosed with cancer, and their family was suddenly in a hard situation they never saw coming. John's brother needed treatment in Albany, and they found the Albany Ronald Mcdonald House to stay in because the family needed to be near the hospital. Initially, they were fearful, but the house quickly transitioned into an incredibly welcoming place that felt like home. One day, John's mother needed gallbladder surgery, and Debbie Ross, a woman who felt like a mother to him, took care of him at the house and made sure he was okay while his mother was at surgery. One of John's fondest memories of the house was during Christmas when the house provided endless comfort and wonderful presents were given to everyone who was staying there. Even in the hard times, they still celebrated and everybody had fun, watched movies, and the parents did not have to worry as they were always provided with great meals. The house helped them get through their experience, and they stayed there for one year. Today, John's brother is doing very well, celebrating 25 years free of cancer.
However, John's story goes on. Years later, when John had his newborn baby girl, Jenna, they found out that she had a very rare mass and needed very intense medical treatment and surgeries, which had many postoperative complications. Jenna needed several organs removed because of a blood clot. Originally having a feeling of being complete, the brand new parents were taken by surprise due to the situation. Jenna's condition was a hard hit for John's family, but when they stayed at the house, all of the families shared the same comradery and a constant feeling of home was established. Important information about the hospital was always provided, and the people at the house were great and made every individual feel special.
Besides the advancements in medical technology, there was no change between John's two experiences. There was always the same great care and a welcoming atmosphere. Today, Jenna is dependent on IV fluids but is doing much better and the family is managing well. John's experiences have inspired him to become a professional nurse at Albany, and to become the giving person that he is today. The Ronald Mcdonald House is an amazing organization that has helped many families get through their hard times.
*Names have been changed for privacy purposes