The Blackbird Review staff, along with writing fiction and poetry, also displays its creativity by developing our podcast and creating digital media. The podcast, a compilation of spoken word interpretations of submissions found on the website and other original material, is solely the production of Blackbird Review staffers. The other digital media, culled from our editors' blog and open submissions, have been collected here.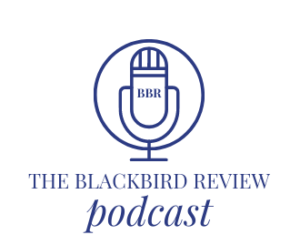 Episode 6: Tricks and Treats (5/31/23)
Episode six, hosted by Podcast Editor Ilian Medarov, showcases two pieces that hover around the theme of Halloween. Jason Zeliph's "Consider the Kit Kat" is a sharp examination of how a favorite candy bar is put together, and, deeper yet, what the ramifications are for eating the chocolatey treat. Ally Sapienza's "Yesterday's Drive" is a creepy horror story with a Halloween flair. Lastly, we get an excerpt from our interview with Ken Young thrown in for good measure.
Episode 5: The Creative Arts (12/10/20)
Episode five is a deep dive from Podcast Director Merrin Brick into the state of the creative arts in America and, specifically, Clayton A. Bouton High School.
Episode 4: Saga! (04/15/19)
Our fourth installment features a full interview with Saga officers Alexis McCrea and Fiona Wikstrom. Hosts are Lily Burke and Noura AbdAllah.
Episode 3: Photos and Poetry (05/18/18)
Our third episode features host Kevin Pai in discussion with Mary Hennessy, where she describes the background of a few of her photos featured here on the site and the nature of her artistic process. He then chats with Lily Burke about her poem "Architect of Destruction," the sources of her creativity, and some inspirational words that she lives by.
Episode 2: Cars, Stars, and Interviews (06/12/16)
Our second episode features Lindsey Odorizzi's story, "Car Conversations," read by Maya Herr,  Sara Gannon's poem, "My Sky," read by Sara Gannon, and the full Blackbird Review interview with English and Spanish teacher, April Levy (the transcript can be found here).
Episode 1: Introductions (12/25/15)
Our first episode is a selection of stories from the Fall/Winter issue, featuring Sarah Alden's "And Jill Came Tumbling After," read by Lance Luther,  and Braden Racey's "The Man and the Masks," read by Olivia Suozzo.