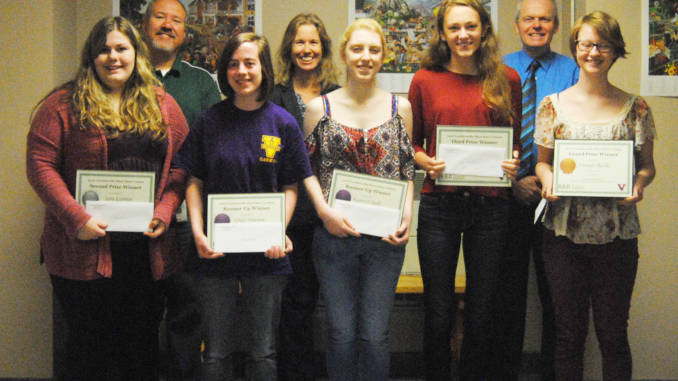 The 2016 Voorheesville Short Story Contest winners were awarded their certificates and prize money on Friday, June 10, 2016. Amanda Bache, class of 2016, was this year's $500 grand prize winner with her story "Dear Detective."  Sara Gannon, class of 2017,  won the $300 second prize honors with her story "Enshrouded Grandeur," and Olivia Rowland, also class of 2017, captured the $100 third prize with her story, "Orneda's Bird." Grace Newton, class of 2016, and Kerry O'Neill, class of 2017, each took a $50 runner-up prize for their stories "Flight," and "The Dream Bird," respectively.
This year's contest, like last year's, was open to students in either eleventh or twelfth grade at Clayton A.Bouton High School, and centered on the theme of "the red-winged blackbird." Open to juniors and seniors, there were over thirty entries, doubling the number of entries that came in for last year's contest. These initial submissions were vetted by a faculty/staff panel from the high school , and the top ten stories were then sent to the College of Saint Rose, where three graduate students in the MFA program evaluated each story and chose the top five. The top three stories were published in the Spring 2016 issue of
The Blackbird Review
, the school's literary magazine, and the top five stories appeared online on T
he Blackbird Review's
website,
https://blackbirdreview.org
.
Copies of the Spring 2016 edition can be purchased at the high school by emailing Mr. Stumbaugh at
[email protected]
,  the Voorheesville Public Library, or The Book House of Stuyvesant Plaza. The winning stories, our podcast, and many more fantastic pieces of art and writing are always available on the website.