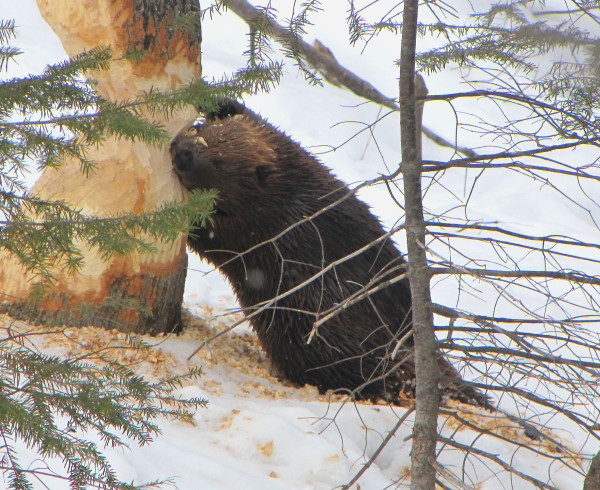 Note: while we are primarily a literary magazine focused on creative works written in English, every now and then a piece comes across our desk, written in a language other than English that really catches our fancy. This is one of those stories.~ the Editors
Había una vez un castor joven, Benito. Este castor se criaba en una colonia muy tradicional. Aquí, los castores más viejos enseñaban a los castores menores las cosas importantes. Cuando Benito era solamente un castor bebé, aprendió que todos los castores deben tener orgullo por sus dientes grandes.
<<¡Mastica, rechina, gruñe! >> cantaban los mayores.
<<¡Sí, nos encantan nuestros dientes!>> gritaban los castores joven.
Benito corría a las presas para trabajar.
<<Sueño que un día termine mi presa, una casa de maderos fantásticos, donde puedo criar una familia de castores, >> pensó Benito, muy feliz.
<<¡Mastica, rechina, gruñe! >> cantaba mientras trabajaba.
Un dia, Benito andaba por el bosque para buscar más árboles. Benito encontró un árbol hermoso y alto que añadiría a la presa. Benito escaló el árbol muy emocionado. De encima, Benito vio a una criatura desconocida. La criatura era muy alta y tenía pies y garras extraños. Benito la vio de más cerca. Asombrado, Benito se dio cuenta de que la criatura fue un leñador porque tenía una chaqueta de franela.
Benito tuvo miedo porque el leñador se acercó. De pronto, él escuchό un ruido terrible.
<<¡GÜIRRRRRR!>>
¡Benito vio una hoja afilada! Sus instintos se convirtieron activos.
<<¡Mastica, rechina, gruñe! >>
La pelea violenta terminó. El leñador tuvo miedo y dijo, llorando,
<<¡Ma-ma-mastica, rechina, gr-gr-gruñe!>>
<<Te salvaré la vida, por un favor pequeño>> dijo Benito.
<<<<¡Ma-ma-maaaaaaa!>> dijo el leñador.
Benito fue a la colonia, victorioso.
<<¡Ven, castores! ¡Miren lo que yo traje!>> dijo Benito.
Los castores se reunieron.
<<¡No vamos a masticar, rechinar, ni gruñir más!>> dijo Benito.
Él encendió la sierra mecánica.
<<GÜIRRRRR!>> dijeron los castores muy felices. <<GÜIRRRRR!>>
Desafortunadamente, los castores no supieron que con mucho poder llegue gran responsabilidad.