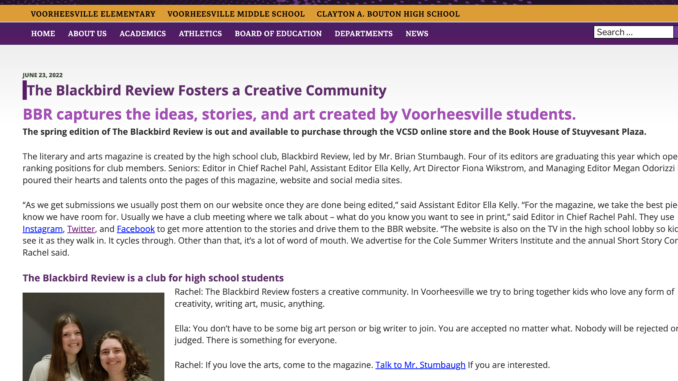 The Blackbird Review was highlighted on the Voorheesville Central School District website with an interview with its two editors, graduating seniors Rachel Pahl and Ella Kelly. The interview focused on the activities of the BBR as a club, the focus on editorial tasks, and the creation of a print and online magazine. Pahl and Kelly, both four year members of the BBR, spoke at length about their experiences serving in the club, and highlighted what they believe were the best experiences they had working on the magazine.
Kelly, the assistant editor, stated, "I think what's so cool about it is that we are such a small group we are able to focus on what we all really love to do. Since I've been a freshman, I have been trained to become an editor because that is what I'm interested in. I like reading. I like reading other people's works and I like working on it with them. That's what I'm interested in. After high school I want to be a teacher so this is helping me do that. I'll probably be an elementary school teacher so what I'm doing now is at a higher level than what I'll be doing then."
Pahl, the magazine's Editor-in-Chief, added, "You don't have to be Shakespeare, Picasso, or Jimi Hendrix to like art, or music, or writing. What's important is you like those things, if you like reading, if you like listening to music and if you like art – even just doodling in your sketchbook. For The Blackbird Review you do not have to excel at it you can just love it. And everyone else will hold you up and foster a creative community. It's a place where you can come and love those things, and be part of a group that loves those things, and contribute to your school community by helping others who love those things."
Both Pahl and Kelly credit the BBR with creating a small but robust creative community at Clayton A. Bouton High School.
The full article can be found here.