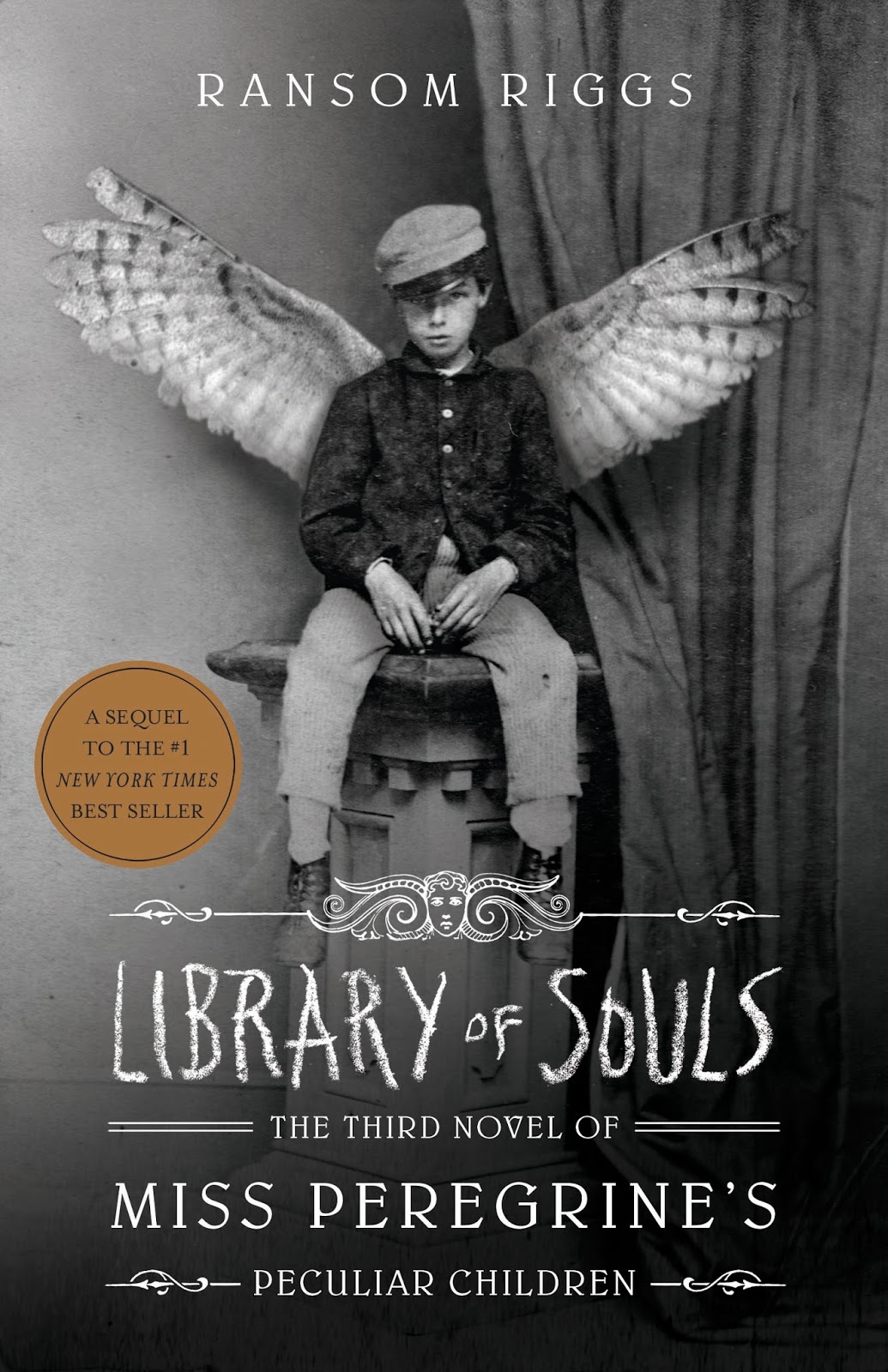 In light of recent events (the third book of the Miss Peregrine's Home for Peculiar Children series, Library of Souls, being sold and the upcoming release of Miss Peregrine's Home for Peculiar Children, the movie), I believe a book review of the first novel in this award-winning trilogy is in order.
Miss Peregrine's Home for Peculiar Children by Ransom Riggs is a fantastic story for all ages. Meet Jacob Portman, a 15-year-old Florida resident who has lived an unremarkable life so far, unlike that of his paternal grandfather, Abraham Portman. Escaping from Poland during WWII, Abraham traveled to a very peculiar orphanage on Cairnholm, a small island in Wales. It's a world full of children with special powers and the monsters who hunt them, or according to Abraham's vivid stories about life at the orphanage. Eventually, Jacob begins to stop believing in his grandfather's apparent tall tales. But, after a family tragedy, Jacob convinces his parents to let him travel to the mysterious island his grandfather grew up on. What he discovers, however, would change his life forever.
Riggs's book is, in and of itself, a true masterpiece. The world that he creates is nothing short of astounding. His characters' distinct speaking styles and personalities work incredibly with each other to produce a tone that is delightfully true. Jacob is just what the story requires of him: intelligent, funny, courageous, versatile, and loyal. Like us or any human for that matter, he questions himself more than anyone else in the story and it's clear that Jacob is not only an explorer of the new world around him but also of himself. Riggs gives him, and each of his other characters, flesh and blood through their varying personalities and dialects that open up the story and make it very realistic.
Arguably the most beautiful things about this book, though, are the images incorporated in the story. They're very unique pictures that Riggs said he found in flea markets and the like for very cheap. Sometimes, he explained, he'd find a picture and felt he must use it in the story, and other times he needed to find a picture that he could insert into the plotline. Whatever the case, those images are truly wonderful and completely original. Most are of children with odd abilities but some are of places or adults too.
What I also find interesting is the lack of description of the protagonist, Jacob. As the main character, he is really not described much at all, physically. It gives a certain independence to the reader as they're allowed to see Jacob however they want to which creates an interesting experiment in developing a character. This lack of physical description in Jacob and a few other characters is a dangerous tactic because it can disconnect the reader from the characters, but since it was used correctly, it reaped great rewards.
And lastly, another remarkable thing about this Miss Peregrine's is that it includes Jacob's stages of grief. In movies, T.V., and even some books nowadays, the harrowing process of grief isn't well explained or shown. After a family member's death, Jacob goes to see a psychiatrist, is forced to take medication, has terrible nightmares, and becomes increasingly isolated. He doesn't make much contact with the outside world (even though he really only had one friend to begin with) and his whole family believes he's crazy. Jacob describes the months after the tragedy with disdain, explaining how his family tiptoed around him and how he was shut up in his room most of the time. Many people go through a similar tragedy in their early lives whether it be the death of a close family member or a friend moving away and I feel that it's good to show people (especially children) that there's no right way to mourn over someone's death. Grief is a tricky and complex process to comprehend, especially for kids as they may not know what to feel. It's a confusing and sad portion of the book, but it needs to be there and I'm very happy Riggs included it.
In conclusion, Miss Peregrine's Home for Peculiar Children by Ransom Riggs is a brilliant read, from start to finish. Chock-full of hilarity, imagination, mystery, and of course peculiarity, this unique novel is a must-read for people of all ages.