The Blackbird Review staff, along with writing fiction and poetry, also displays its creativity by developing our podcast and creating digital media. The podcast, a compilation of spoken word interpretations of submissions found on the website and other original material, is solely the production of Blackbird Review staffers. The other digital media, culled from our editors' blog and open submissions, have been collected here.
---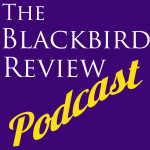 Episode 2: Cars, Stars, and Interviews (06/12/16)
Our second episode features Lindsey Odorizzi's story, "Car Conversations," read by Maya Herr,  Sara Gannon's poem, "My Sky," read by Sara Gannon, and the full Blackbird Review interview with English and Spanish teacher, April Levy (the transcript can be found here).
Episode 1: Introductions (12/25/15)
Our first episode is a selection of stories from the Fall/Winter issue, featuring Sarah Alden's "And Jill Came Tumbling After," read by Lance Luther,  and Braden Racey's "The Man and the Masks," read by Olivia Suozzo.